Software development companies are making smart choices in their approach towards executing projects. One such giant leap the companies are making is hiring dedicated software development teams.
By building an offshore development team, the companies will gain access to large talent pools at affordable prices. Software development is having a very high demand globally and the market of proficient offshore software developers are also going to grow exponentially in the future. 
Hiring software development teams requires attention to factors like location, resource quality, accessibility, technical skills, and much more. A recent survey revealed that 72% of the companies preferred software development outsourcing to hiring in-house programmers for software development projects.
Offshore software development companies like Webdura offer access to technology-adept talent pools in a cost-effective manner. Hiring offshore development teams have shown exponential growth in recent statistics.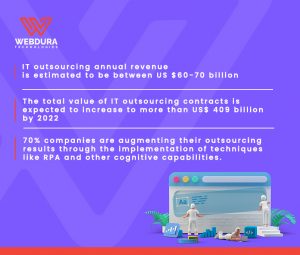 Why do companies hire offshore developers?
Hiring offshore developers are advantageous to software development companies in a lot of aspects. A few of them are listed below:
Cost efficiency
Surprisingly, hiring dedicated software development teams will cost companies much lesser compared to in-house development teams. On paying a certain amount, the offshore companies shall set up the development team and get the software development going. It will save the company from other expenditures like office infrastructure, salary pays etc. 
Access to skilled resources 
Need access to large technology talent pools? Associate with offshore companies. Companies, particularly startups, often have difficulty in finding experienced resources with sufficient skills. In-house development teams will have limited knowledge on software development projects and this could adversely affect the company operations. Offshore development teams have their skills lying in more than one technology, while managing in-house development teams will have proficiency in a technology or two. Additionally, offshore companies offer you a pool of resources to choose from.
Improved productivity
Can you assume the one factor that improves the employee productivity of dedicated offshore developers compared to in-house teams? The deadline! While in-house teams might lull knowing that their work isn't going anywhere, offshore developers work hard to achieve the project outcomes within the cut-off point. Additionally, the vendor company will ensure transparency in processes and take care of project management, thus saving a lot more of your time.
Flexible scaling
Say you have in-house development teams. How will you ensure that the teams have flexible scaling? What if you need many developers? What if you need only a few programmers? This flexibility in scaling can be assured in offshore development frameworks. You can increase or decrease the size of your offshore development team as per your requirements. To accomplish project requirements, you can choose the team size and team velocity of offshore developers required for each activity. 
Global expansion 
In a way, you are expanding globally through hiring dedicated software development teams from different countries. The offshore team executes projects under the banner of your company and this is a very cost-effective way of geographical expansion. If you are looking for better market access in a global context, dedicated teams are one of the medium through which you get it. Your choice is not limited to offshore developers alone. You can hire marketing, operations and sales teams for improved product penetration in various markets.
The process of hiring offshore developers 
There are a whole lot of factors to weigh in and meticulously executed before committing to an offshore software development company. 
How is the process of hiring dedicated development teams for your projects carried out? Here's how…
Establish project requirements > Budget limits > Search the right offshore companies > Contractual agreement
Let us discuss the above points in detail…
Establish project requirements 
The project requirements will encompass different factors like the number of developers required, timeframe and deadline for product launch, what is the team structure and so on. Determining project requirements is important for seamless hiring of offshore developers.
Budget limits
The next step is setting the budget limits. To hire dedicated development teams, you need to decide the budget you are willing to spend on them. The factors that influence the company's budget allocation are the number of programmers required for the projects and the project timeline. Offshore teams work on projects-basis and hence the spending on such teams is less compared to in-house teams.
Search the right offshore companies
To partner with the right outsourcing company like Webdura which has the experience and expertise in the relevant technologies is very important. Companies either have vast talent pools experienced in different technologies or experts or who are specialised in one particular technology. Based on your project requirements, you can choose the offshore companies that will fit best. You might also want to weigh offshore companies for job posting in different locations and that too within a short period of time.
Contractual agreement
Once you find the offshore company compatible with your organisation, a detailed contract with rules, governing policies and procedures, terms and conditions of the project is prepared and signed. It is best to take maximum recommendations before signing the contract for ensuring a transparent and secure contract with the offshore development company.
Conclusion:
It is very challenging to find an offshore development company. To find the right one among the thousands is painstaking and once you choose the right partner, your software development becomes hassle-free and efficacious. 
You can search the perfect offshore development company through online search or LinkedIn. Make sure that you go through the potential company's customer reviews before making any direct communications.
You might also find qualified leads through LinkedIn. As a global platform, LinkedIn can be the right place for organisations to cross-verify different offshore development companies.
Thanks For Reading!
Sign up for our newsletter the monthly updates
How about a lil' game of fill in the blanks?
We love working alongside ambitious brands and people